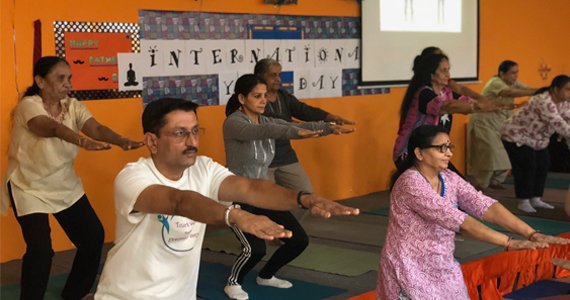 For the promotion of global health by adopting yoga, harmony and peace the Indian Prime Minister Narendra Modi in his UN address suggested the date of 21 June, as it is the longest day of the year in the Northern Hemisphere and shares a special significance in many parts of the world. Following this initial proposal, the UNGA drafted resolution entitled "International Day of Yoga", on 14 October 2014. June 21 is being observed as International Yoga Day every year.
The ParamCARE Foundation also, celebrated International Day of Yoga on Thursday, June 21, 2018, at the PADC 60 E Hanover Ave., Morris Plain NJ.
Mr. Vipul Amin-The President of the ParamCARE Foundation participated in an event and explained in details about the importance of yoga. He highlighted various quotes from Vedas & Gita and said that Yoga is a physical, mental and spiritual practice originated in India and it is an invaluable gift to the world. Yoga embodies the unity of harmony between man and nature mind and body that is thought and action, restraint and fulfillment, a holistic approach to health and well-being. It is not about exercise but to discover the sense of oneness with yourself, the world and nature. "Yoga has the perfect solution to the problems we face in day-to-day's life, either as individuals or in society. Yoga is not the name of religion but it teaches us the way to lead a contented life is yoga beautiful because it is ancient yet modern," he said.
Read More