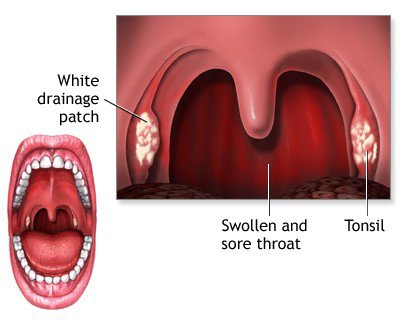 What are Tonsils?
The tonsils (palatine tonsils) are a pair of soft tissue masses located at the rear of the throat (pharynx). Each tonsil is composed of tissue similar to lymph nodes, covered by pink mucosa (like on the adjacent mouth lining). Running through the mucosa of each tonsil are pits, called crypts.
he tonsils are part of the lymphatic system, which helps to fight infections. However, removal of the tonsils does not seem to increase susceptibility to infection. Tonsils vary widely in size and swell in response to infection.
What is Tonsillitis?
Tonsillitis is an inflammation (swelling) of the tonsils.
Causes of Tonsillitis?
The cause of tonsillitis is usually a viral infection. Bacterial infections such as strep throat can also cause tonsillitis.
Symptoms of tonsillitis?
The main symptoms of tonsillitis are inflammation and swelling of the tonsils. Other symptoms include:
A sore throat, which may be severe
Throat pain or Ear pain or both
Red, swollen tonsils
Trouble swallowing
A white or yellow coating on the tonsils
Swollen glands in the neck
Difficulty in swallowing
Fever
Bad breath
References: www.nih.gov, www.webmd.com
Read More