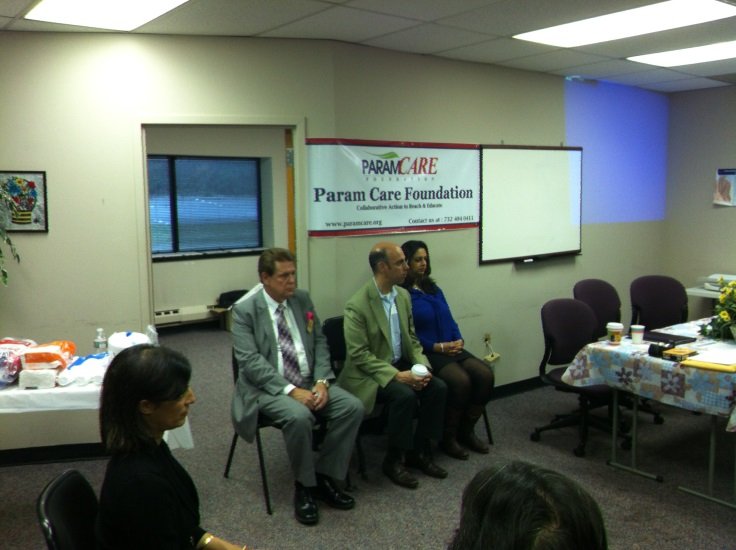 ParamCARE foundation hosted the South Asian Child Care – 2013 program at its facility in Iselin, New Jersey. The event targeted the South Asian population who are under privileged and do not have access to pediatricians, have no health insurance and are unaware of the US health care system. The purpose of the event was to improve awareness on western medical system, assist with getting health insurance and to get them connected to a pediatric healthcare provider.
The program
was conducted in partnership with Dr. Mirchandani a member of American Academy of Pediatrics. Close to 40 parents and their children attended and benefitted from the event. Present at the event were Dr. Rajinder Gandhi, Pediatric Surgeon at Valley Hospital in Bergen County, NJ, who spoke on stress management through natural ways while caring for children.
Mr.Vipul Amin, Director , ParamCARE Foundation welcomed the speakers and participants and spoke about the responsibility of community leaders to make programs like these more accessible to the underprivileged population and improve awareness on leading a life that is balanced physically, mentally and emotionally and pass it on to the future generations . Councilman Jim Major of Iselin and Menlo Park terrace spoke about the need for more awareness programs like this to improve access to health care facilities in the community. Dr. Gautham Mirchandani Radiologist and Academic Advisor at SUNY Downstate in Brooklyn, NY also spoke at the event about the role of radiologist in medical care in children. Dr. Minal Vazirani, Director of Integrative Medicine at St Barnabas Hospital in Livingston, NJ spoke about how western medical system can be practiced in integration with alternative medical system.
In addition to the educational presentations, free health exams for children and assistance with linking them to a pediatrician and getting health insurance were provided during the event to all the participants who attended the event.
ParamCARE foundation is very committed towards improving health literacy among the people of the community and will continue working for it. Participants in the focus group were native born South Asians who immigrated to US.
Read More